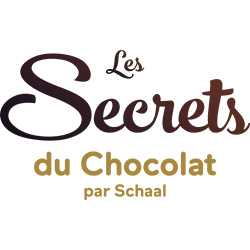 Museum – outlet shop – restaurant
Located in Geispolsheim near Strasbourg, "Les Secrets du Chocolat" by Schaal invite you to discover the origins, techniques, and expertise of Alsatian chocolate by Schaal. On the occasion of the establishment's 20th anniversary, prepare yourself for 8 months of festivities rich in indulgence.

To mark the 150th anniversary of Schaal and after several months of renovation work, the Musée du Chocolat is offering a new gourmet experience and inviting you to take a poetic, gourmet journey through the world of Schaal, Chocolatier des Chocolatiers, from yesterday to today, from Ecuador to Alsace, from the bean to the chocolate. A true place of learning and discovery for young and old alike, the Musée du Chocolat reaffirms its values through a multi-sensory experience: TO TRANSMIT, TO SHARE, TO TASTE. The Musée du Chocolat is proud of its expertise in the chocolate industry, and invites you to immerse yourself in our cocoa plantations in Ecuador and hazelnut plantations in Guyenne. Put your bags down in Geispolsheim to discover the secrets of making mouldings, sugar-coated sweets, ganache and praliné! The last stop before you reach the end of the line is the "Chocolate Factory", at the heart of the museum, where our passionate chocolatiers work every day. After a fun and immersive visit, get hands-on in the "apprentice chocolatiers' workshop" to make your own chocolate creation under the expert eye of our chocolatiers.

Continue the journey for lunch or a snack with the all-you-can-eat sweet and savoury buffets in the catering area. Enjoy seasonal quiches and salads, and other savoury recipes prepared according to the chef's inspiration. Continue on a sweet note with various pastries, waffles, chocolate fountains and other delicacies.

Your last stop is the 180m2 shop, where you'll find all your favourite chocolates at factory prices, from mini to maxi size. Want to continue the experience at home? The new online shop delivers all over France!
Take advantage of a special anniversary offer for the 20th year of Les Secrets du Chocolat by Schaal. From September 5, 2023, to April 30, 2024, for every adult ticket purchased, a child's museum entry is offered! The offer is valid provided you reside in Bas-Rhin and cannot be combined with other ongoing promotions or discounts.
---
---
This company is capitalistically owned by Omnia
---
François de Bretagne
Manager
Les Secrets du Chocolat – Museum – Outlet shop – Restaurant
Rue du Pont du Péage – F-67118 Geispolsheim
+33 (0)3 88 55 04 90