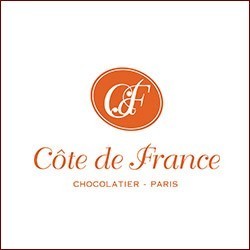 Shop selling chocolates
Côte de France, created in 1936, incarnates French taste in the world of chocolate by marrying sensual flavors with the purity of the raw material.

The brand's chocolates combine the classicism of chocolate with the style of gourmet innovations: traditional pralines with hazelnuts and almonds of certified origin, prestige ganache containing 70% cocoa, "mendicants" and "calissons"…
---
Côte de France shines as far away as Japan and sold in fine departement stores. A selection of refined chocolates and new, highly rated recipes are contributing to France's culinary prestige.
---
Distribution: Shops in Paris, Outlet in Japan
François De Bretagne
President
Côte de France – Boutique
25, avenue de l'Opéra – F – 75001 Paris
+33 (0)1 44 51 94 74