Chocolatier des Chocolatiers depuis 1871.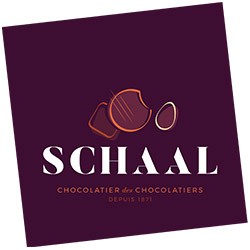 Chocolate factory chocolates, moulding, sugar coating, snacking
Chocolaterie Chocolate candies, molding, sugar-coating, nibbling.
Authenticity, Taste, Generosity, Proximity; so many values that make the House founded in 1871 in Strasbourg, the partner of famous brands but also tradesmen artisans with gourmet shops.

Authenticity
The know-how in manufacturing comes from a long tradition of chocolatiers at the service of taste.
Taste
The selections of ingredients for the recipes are original. We use character cocoa beans including those from our own plantation in Ecuador.
generosity
A rare diversity of delicacies delighting our customers'customers.
proximity
The leading partner of many gourmet shops in France and international gourmet brands.
---
For 140 years, Schaal Chocolatier has guaranteed fine food lovers a tradition of excellence and high professionals standards. Heritage, diversity and innovation lie at the heart of its first class experitse, benefiting chocolate and pastry-making experts alike. Located close to Strasbourg, Schaal Chocolatier is present in every segment of the profession:
---
Seeking out the best raw materials from the group's plantations: cocoa beans from Ecuador, French hazelnuts from the orchards of the Southwest…
Manufacturing its unique coating developed in the workshop
Manufacturing pralines in copper vats using traditional methods with almonds and hazelnuts being roasted in caramel to refine the taste
Using improved sugar coating and extra-fine shells to transcend flavor combinations;
Renewing its chocolate confectionery range with 30 innovations each year
When inspired, the customer can become the creator of recipes. When accompanied, he or she can be sure to benefit from a wide, regularly updated range os sweets and chocolate dragees. Finely made, tasty and delicate, these great value chocolates can be appreciated in retail stores in France and throughout the world.
Beyond the Easter and Christmas periods, Schaal Chocolatier develops its expertise by seeking out new trends in "chocolate attitude" quality and festive snacking and snacking on the move, as well as searching for cocoas of diverse origins.
---
GUY TREGUER
Managing director
CFCC Schaal Chocolatier
Rue du Pont du Péage – F-67118 Geispolsheim
+33 (0)3 88 55 04 55